One of the biggest questions we get at Rotten Apples from our customers is – "How do I clear out more space on my iPhone?" This, of course, is usually their question after they find that they cannot update to the newest OS, or their iPhone simply starts being laggy or they simply cannot take one more photo due to storage constraints. Yeah, you know who you are….
If you're buying a new iPhone, we would always advise you to avoid the option with the least storage. We understand the temptation. After all, the 16GB iPhone is $100 cheaper than its 64GB counterpart. Unfortunately, you'll actually end up with around 12GB free, and it can fill up rather quickly. Don't despair if you have got a 16GB iPhone, however, because there are plenty of things you can do to maximize your space and learn to live with it. Behold our space-saving tips below:
Downsize your apps and games list
Head into Settings > General > Usage > Manage Storage and have a look at what's eating up the most storage space. Apps and games that you don't regularly use should be uninstalled, after all, do you really need them? You can always reinstall them again if you really want them, so be ruthless.
Apps also tend to grow over time as you use them, so it can sometimes be a good idea to occasionally uninstall and reinstall them. Tap on individual apps in Settings > General > Usage > Manage Storage to see how much extra storage is associated with Documents & Data. This can be a large and unnecessary slice of your storage, especially with apps such as Facebook.
Stream music and movies
Forget about loading music tracks, TV shows, or movies onto your iPhone. Use streaming services instead. Apple Music and Netflix are our favorites, but there are loads of other to choose from. Spotify and SoundCloud are great for music lovers, while Amazon Video, Hulu, and HBO Go make the perfect companion for those looking for movies or TV. If you use them when you're out and about, just make sure that you keep an eye on your data usage. Always connect to wi-fi when you can – unless you have a grandfathered in, truly unlimited data plan like moi 😉
Limit the size of photos and videos
Photos and videos that you shot yourself are likely to be taking up a lot of space on your iPhone. It's a shame not to take full advantage of the camera's features, but you should definitely turn some of them off if you're worried about space.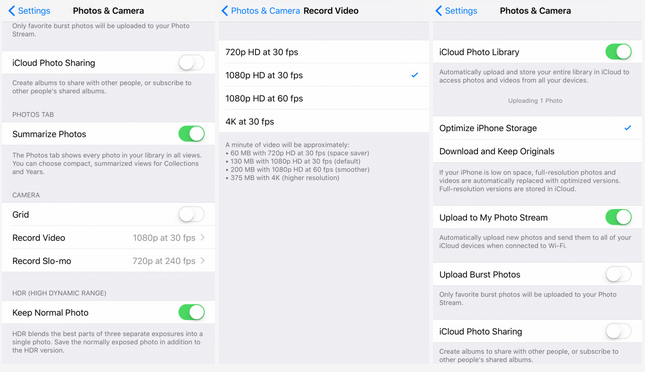 Start with Live Photos, because each one is a three second video, instead of a photo. Tap the three concentric, yellow circles at the top of the screen in the Camera app. When Live Photos are off the circles should be white. You should avoid using the HDR mode, too, but if you are going to use it, then go to Settings > Photos & Camera and turn Keep Normal Photo off.
You should also avoid recording 4K or slow-motion video if you have limited space, because both will take up a lot of storage space compared to ordinary video. You can save space by reducing the resolution and frame rate in Settings > Photos & Camera > Record Video or Record Slo-mo.
Back up in the cloud
A better way to cope with storage-hungry photos and videos is to back them up in the cloud. There are lots of different options, beyond Apple's iCloud, that will enable you to manually or automatically back up your photos and videos. We recommend Google Photos because it's very easy to use and it's free. You can also get some free storage space with Dropbox or OneDrive.
Delete old files
If you have any old documents, videos, or other files on your iPhone that you could live without, it's time to get rid of them. Remember to take a look inside specific apps. Sometimes you can end up with duplicates or old files you've forgotten about if you use a photo-editing app or a document scanner. Check in Newsstand if you subscribe to papers or magazines, and make sure there aren't loads of back issues.
Delete old messages
You should also sift through your messages and delete anything unimportant, especially if it has an attachment. If you don't want the hassle of doing this manually, then go into Settings > Messages and scroll down to Message History and tap on Keep Messages, then set it to 30 Days. It's even worth deleting old voicemails, call history, and unused contacts. You'd be shocked to learn how much space voicemails and text messages between you and your BFF take up! Think about all those memes and screen caps you send back and forth. Yikes.
Clear browsing data
Your browsing history and website data builds up over time, but it's very easy to get rid of. Go to Settings > Safari and tap Clear History and Website Data. It won't make a huge difference, but every little bit helps. Word of caution: this may make you look like a shady individual to your significant other, so you might want to let them know you're only doing it to "clear space on your phone." Sure, uh-huh…that's why… 😉
Restore your iPhone
If you've worked through all our space-saving tips on your iPhone and you're still short of space, there's one last thing you can try. Plug your iPhone into your computer and open iTunes. Click on your iPhone and you should see a breakdown of the storage. If your "Other" file is really big, then it might be worth trying a restore.
Make sure that you have latest version of iTunes and start it up.
Plug in your iPhone.
Select your iPhone and go to File > Devices > Transfer Purchases in iTunes.
Click on Encrypt iPhone backup, if you want to make sure your passwords, settings, and health data is included.
You'll need to choose a password. Make sure you keep it safe, because you can't restore your backup without it.
When it's done you can select your iPhone in iTunes and choose Restore Backup.
This can reduce the storage that the "Other" section takes up.
Well folks, that is all for today! Hopefully you can apply some of these space saving tips and continue to stay current with the latest iOS updates. We hope you're having a great weekend! Thanks for reading 🙂